Don't you love products that can be used for multiple uses? Take baby oil – it can be used as a make-up remover, massage oil, shaving gel substitute, or to oil hinges. Well our products are just like that too! Our concrete sleepers and steel posts are mostly used for retaining wall purposes but they can also be used for many other applications.
We'll list the 5 most common and give you some tips on how to do them yourself!
Walkways
Instead of making a walkway/pathway out of pavers or gravel, our timber look concrete sleepers (Ironbark & Gumtree) make an excellent substitution. They were first used this way as part of a backyard transformation on the TV series 'The Living Room'. Because of the grainy texture to the face of the sleeper they aren't slippery, and the natural look will fit in great with any backyard design. You can accessorise with gravel or bark, but the choice is all yours – create a beachy look with natural rocks, or maybe a classic look with polished white stones! An installation tip: level your ground out first, lay weed matting and crusher dust and level each sleeper as you place them down.
Garden Edging
Whether you are only going 1 sleeper high (200mm) or a couple, both the Ridgi & Pioneer concrete sleepers are the perfect alternative to blocks, timber sleepers or sandstone boulders. They don't take up much room, they won't attract termites, they'll last, and they are super easy to install.
There are 2 ways you can put them in if you are only needing 1 sleeper high. The first option is to dig out a little trench and bury half of the sleeper in and compact the dirt around/concrete it in place OR use the steel posts and slot the sleepers in place. We have a 'how to video' on installing the Ridgi steel posts and concrete sleepers on our Facebook page if you want some tips!
Planter Boxes
Planter boxes are a great way to make a statement in your yard and you can get super creative with them. You can go horizontal or vertical, create a bench seat in between, stack them on top of one another to create shapes plus much more. The ideas are endless. So, have you ever thought of using a more durable product like concrete sleepers and steel posts instead of those old timber products?
The picture below was sent in by a customer who bought our Ridgi concrete sleepers and steel posts and created this cool looking planter box. They used Ironbark timber look concrete sleepers and painted the steel posts to really make it pop. Design idea: Use Smooth Grey concrete sleepers and steel posts and paint them both to match the guttering or roof of your home for a designer look!
Veggie Patches & Garden Beds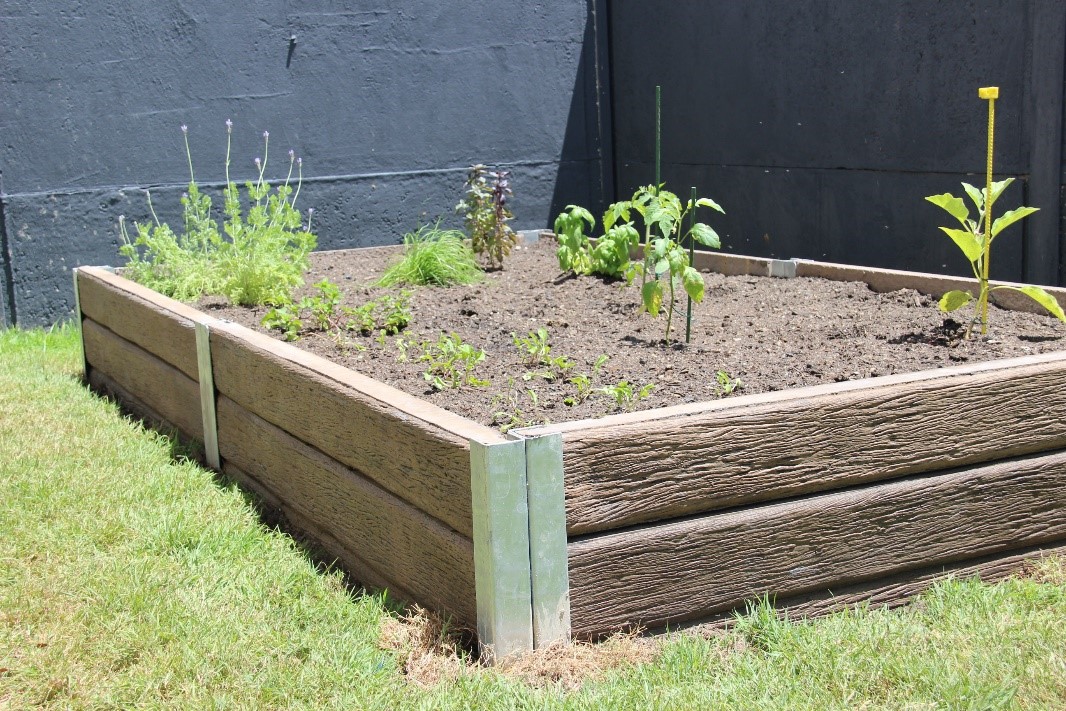 When you search for images of gardens beds or veggie patches, the materials often used are timber and Colourbond panels. One issue you'll come across with these materials is that they won't last much more than 5 years. Now that is great if you like renovating your yard that often, but most of us don't like to! Our concrete sleepers and steel posts won't rot or warp out in the weather like timber does, so already you have an added bonus. Plus our Ridgi range has a 15 year guarantee and Pioneer 35 years. The timber-look concrete sleepers provide a classic, natural look and you could even paint the steel posts to blend in.
Retaining Walls
And last but not least – concrete retaining walls! This is what we initially designed our products for, and is our core business. The Pioneer range is suitable for retaining walls up to 3.0m high -perfect for those big jobs like subdivisions, or where extra strength is required – and the Ridgi range for walls up to 0.9m high, which is easy & light enough for the DIYer to handle.
For loads of tips, photos and information visit our Facebook pages @ridgiretainingwalls or @aussieconcreteproducts1
Learn from These 3 Costly Mistakes Before You Build Your Retaining Wall
Have you ever tackled a project and wished someone had told you about the things to look out for? Well, we certainly have and that's how we came up with this month's blog! If you are thinking of building your own retaining wall DIY style then make sure you read this 😊
During our 13 years of manufacturing and installing concrete sleeper retaining walls we have learnt from our mistakes. When we reflected on the mistakes we made in the early years, the 3 listed below were the costliest and most common.
Council approval
Now all Council's regulations vary from state to state but here in Brisbane, Queensland our local council states that "you do not need building approval for a retaining wall if it fulfils the following criteria:
there is no 'surcharge loading' over the 'zone of influence' for the wall (refer to definitions in the Building Regulation 2006 (Schedule 1 Section 3)
the total height of the wall and of the fill or cut retained by the wall is no more than one meter above the wall's natural ground surface
the wall is no closer than 1.5 meters to a building or another retaining wall
it does not form part of the fencing for a pool"
So, if you don't need council approval then great, you get to save some $$ but if you do need council approval then you have some tasks to do. If you need approval quickly we suggest using a private certifier as they take care of the entire process for you and are experts on the matter. If you go through the council directly you will have to fill out a tonne of paperwork and it can be tricky if you don't know what you are doing.
Now you might be reading this and thinking I can't be bothered getting council approval or I cannot afford it, but trust me, you can't afford not to. If your local council finds out, you could be slapped with a fine and rectification costs if it isn't built to standards. Do your research in the planning stage and you shouldn't have any issues. If you do require building approval then be sure to budget for the costs involved.
If you'd like more information click this link to the Brisbane City Council's guidelines on Batters and Earth Retaining Structures http://qbis.com.au/wp-content/uploads/2015/08/Retaining-Walls-fences-Bris-City-Council1.pdf.
Underground services
Let's visualise this scene together. We are in our backyard, the excavator we have hired to drill our post holes is drilling down 1.2m deep on our 5th post hole. Everything is going great until we hear a bang and is quickly followed by "Oh sh*% we just hit a sewerage pipe!". Now, this scene is not pretty (see picture below, that is not mud) and isn't a cheap or quick fix either!
To avoid damaging any underground services like water, electricity or gas it is best to contact Dial Before You Dig as they can provide the location of all underground services in the location of your project for a fee. By contacting them in the project planning stage (yep I said it again) you could save thousands of dollars in fixing any damaged pipes, cables etc.
To help further here is a link to the Home Owners' Guide from Dial Before You Dig https://www.1100.com.au/images/pdfs/Home%20Owners%20Information%20June%202015.pdf.
 Access for machinery
In this scenario, there are 2 types of homes, 1 with side access that you can fit your dream (or your actual) boat down and the other that you can't even swing a cat around in. If you are the latter, then it's 99.9% possible you could have this problem when you decide to replace your retaining wall in the backyard. Don't sweat, this is a common problem but you will have to outlay a little more money for machinery hire and labour. So maybe lure some mates in with the promise of beers in lieu of their labour and it won't cost as much. Again, this is something you need to factor into your retaining wall budget in the planning stage.
So basically it all boils down to research, planning, and budgeting for everything you need to ensure smooth sailing!
Do you have a green and lush backyard and want your retaining wall to blend in? Well we have a solution for you! One way of making your wall look more visually pleasing is by incorporating some greenery and colour with plants. Now don't get ahead of yourself here, because some plants like to grow long roots and travel in all directions, so you must be careful as to which ones you use! You will need plants that won't impact the structural integrity of the retaining wall and cause a wall failure.
Our mate Jamie Durie and his team lent their expertise to us and gave us a list of different plants you can use. Since the options are endless and we don't want to bombard you, we thought we'd start a plant selection of the week series.
So to start off, this week we have recommended a hanging plant, a climbing plant and a screening plant.
The Dichondra Silver Falls pictured below is a hanging plant that can be planted at the top of the retaining wall. As you can see it will grow over and down towards the ground covering the top part of the wall.
A climbing plant called the Ficus Pumila, can be planted at the base of a retaining wall. As the picture depicts it will grow up the retaining wall.
Lastly, screening hedge such as Murraya Paniculata, are planted in front of the retaining wall. As in this picture, you could even plant some flowers around the hedge to add a pop of colour.